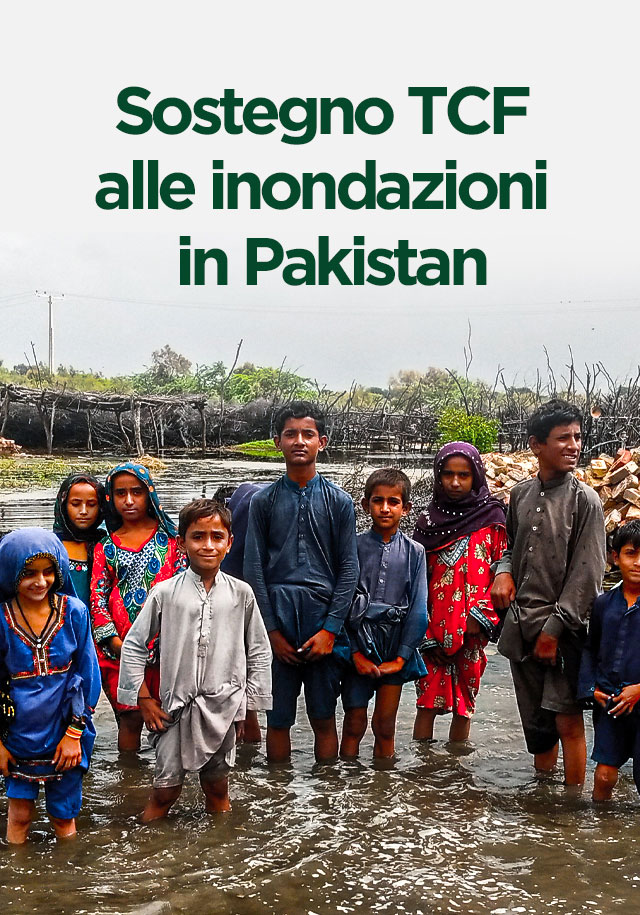 Dona per sostenere le famiglie e le comunità colpite dalle alluvioni in Pakistan
Le comunità in cui The Citizens Foundation (TCF) opera, in Balochistan e Sindh, sono state travolte da devastanti inondazioni; altre aree del Pakistan, quali Khyber Pakhtunkhwa e Punjab meridionale, sono a rischio.
Le piogge non stanno cessando e il tragico impatto delle inondazioni potrebbe crescere in termini sia di diffusione geografica sia di intensità.
Molte delle scuole TCF sono allagate; altre stanno operando come rifugio per le famiglie sfollate. Decine di studenti, membri del personale e collaboratori hanno perso le proprie case, e i mezzi di sussistenza nelle comunità sono stati spazzati via dall'avanzare dell'ondata di acqua e fango.
TCF ha creato un APPELLO PER AIUTARE LE COMUNITÀ COLPITE DALLE INONDAZIONI, appello cui Italian Friends of The Citizens Foundation ha subito risposto, per contribuire al sostegno immediato alle popolazioni e per la ricostruzione. In questo momento di urgente necessità, ti preghiamo di dare il tuo generoso sostegno alle famiglie e alle comunità afflitte che stanno lottando per la propria sicurezza e per ricostruire le loro vite appena possibile.
*Le donazioni a IFTCF sono qualificate per la Zakat.
Con il tuo contributo, ci aiuterai a:
DISTRIBUIRE
CINQUE MILIONI DI PASTI
ALLE FAMIGLIE COLPITE
CONTRIBUIRE
ALLA RICOSTRUZIONE DI 9.000 CASE
RIPARARE
I DANNI SUBITI DALLE
SCUOLE TCF
Modi per Donare
Dona Online
Effettua una
donazione online
su questo stesso sito.
Raccogli fondi per TCF
Inizia una raccolta fondi creando la tua campagna digitale su
fundraise.tcfglobal.org.
Bonifico Bancario
A Italian Friends of TCF OdV
Credem Banca IBAN:
IT61T0303201600010000464838.